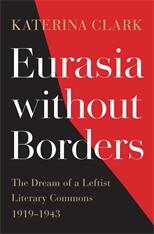 Publisher:
The Belknap Press of Harvard University Press
A long-awaited corrective to the controversial idea of world literature, from a major voice in the field.
Katerina Clark charts interwar efforts by Soviet, European, and Asian leftist writers to create a Eurasian commons: a single cultural space that would overcome national, cultural, and linguistic differences in the name of an anticapitalist, anti-imperialist, and later antifascist aesthetic. At the heart of this story stands the literary arm of the Communist International, or Comintern, anchored in Moscow but reaching Baku, Beijing, London, and parts in between. Its mission attracted diverse networks of writers who hailed from Turkey, Iran, India, and China, as well as the Soviet Union and Europe. Between 1919 and 1943, they sought to establish a new world literature to rival the capitalist republic of Western letters.
Eurasia without Borders revises standard accounts of global twentieth-century literary movements. The Eurocentric discourse of world literature focuses on transatlantic interactions, largely omitting the international left and its Asian members. Meanwhile, postcolonial studies have overlooked the socialist-aligned world in favor of the clash between Western European imperialism and subaltern resistance. Clark provides the missing pieces, illuminating a distinctive literature that sought to fuse European and vernacular Asian traditions in the name of a post-imperialist culture.
Socialist literary internationalism was not without serious problems, and at times it succumbed to an orientalist aesthetic that rivaled any coming from Europe. Its history is marked by both promise and tragedy. With clear-eyed honesty, Clark traces the limits, compromises, and achievements of an ambitious cultural collaboration whose resonances in later movements can no longer be ignored.