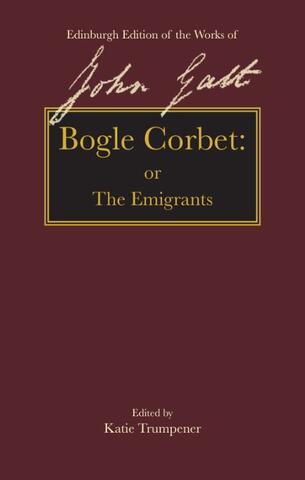 Publisher:
Edinburgh University Press
Through the life-story of its eloquent but depressive narrator, Bogle Corbet links the industrial revolution in Scotland to the French Revolution, Jamaica's plantation economy to the settlement of English Canada. A pioneering industrial novel, colonial novel, and world systems novel, Bogle Corbet also offers an early psychological portrait of emigrant experience. Galt's vivid vignettes show Britain and key British colonies at moments of political unrest and transition, and explore the ambivalences of a world newly governed by industrialism, capitalism, globalisation, and mass displacement. Galt's novel thus remains a work for our own times, even as it offers important transcontinental insights into a key historical juncture. It has inspired eloquent champions (both nineteenth- and twentieth-century) and continues to spark critical debate.
John Galt was a Scottish novelist, entrepreneur, and political and social commentator.
Katie Trumpener is Emily Sanford Professor of Comparative Literature and English at Yale University. Her publication Bardic Nationalism: The Romantic Novel and the British Empire (Princeton UP, 1997) won the MLA First Book Prize and the British Academy's Rose Mary Crawshay Prize. She has co-edited On the Viewing Platform: The Panorama Between Canvas and Screen (with Tim Barringer, Yale UP, 2020), The Cambridge Companion to Fiction in the Romantic Period (with Richard Maxwell, 2008), and the journal Modern Philology (1998–2003).