Shawkat Toorawa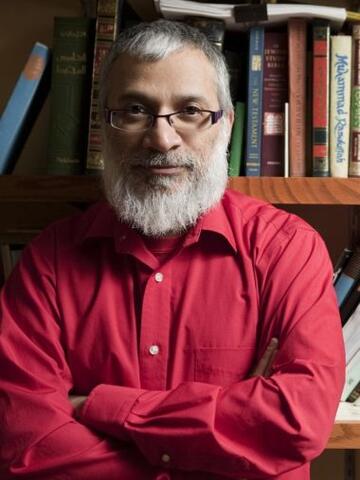 Title:
Professor of Near Eastern Languages and Civilizations
Biography
I have taught Arabic at Duke University, medieval French literature and Indian Ocean studies at the University of Mauritius, and Arabic and comparative literature at Cornell University. I have also worked in a family import/export company in Kuala Lumpur and Port-Louis. Since joining Yale in 2016, my courses have included ones on medieval Baghdad, on the Arabic and Islamic Classics, on medieval and early modern travel accounts, and graduate seminars on Arabic literature.
Books include Interpreting the Self: Autobiography in the Arabic Literary Tradition, co-authored with RRAALL; Ibn Abi Tahir Tayfur and Arabic Writerly Culture: A ninth-century bookman in Baghdad; the edited collection, The Western Indian Ocean: Essays on Islands and Islanders; an edited anthology, The City that Never Sleeps: Poems of New York; and a critical edition, collaboratively translated with the editors of the Library of Arabic Literature, of Ibn al-Sa'i's Consorts of the Caliphs: Women and the Court of Baghdad.  
I am a Director of the School of Abbasid Studies; a series editor of Resources in Arabic and Islamic Studies at Lockwood Press, and of Cultural Legacies at Pink Pigeon Press/Solitaire. I am on the editorial or advisory boards of several journals, including the Journal of Abbasid Studies, the Journal of Arabic Literature, the Journal of Qur'anic Studies, and Middle Eastern Literatures. Since 2010, I have been an executive editor of the Library of Arabic Literature, an initiative to edit and translate key works from the premodern Arabic literary heritage.
Education
B.A. (Hons), University of Pennsylvania, 1985
A.M. University of Pennsylvania, 1989
Ph.D. University of Pennsylvania, 1998
Research Interests
Classical and medieval Arabic literature, especially the literary and writerly culture of Abbasid Baghdad; the Qur'an, in particular hapaxes, rhyme-words, and translation; the Waqwaq tree and islands; Indian Ocean studies, particularly Creole literatures of Mauritius and the Mascarenes; modern poetry; translation; and SF film and literature.
Publication Highlights
'A Corpus, Not a Canon (Nor an Anthology): Creating a "Library of Arabic Literature."' Journal of World Literature 2 (2017) 
'Poetry in the Modern Arab World.'  In Cambridge Companion to Modern Arab Culture, ed. Dwight F. Reynolds (2015) 
'The Modern Literary (After)lives of Khidr.'  In The Qur'an in Modern World Literature, ed. Helen Blatherwick and Shawkat M. Toorawa.  Special issue of the Journal of Qur'anic Studies 16/3 (2014) 
'Tea, Shortbread and 3 Things Worth Knowing.' The Chronicle of Higher Education (15 March 2011) 
'The Shifa' al-'alil of Azad Bilgrami (d. 1200/1786): Introducing an Eighteenth-Century Work on al-Mutanabbi's Poetry.' Middle Eastern Literatures 11/2 (2008), 249–264
'"Translating" The Tempest: Dev Virahsawmy's Toufann, Cultural Creolization, and the Rise of Mauritian Kreol.' African Theatre 3 (2000)
'Language and Male Homosocial Desire in the Autobiography of 'Abd al-Latif al-Baghdadi (d. 629/1231).' Edebiyât 7(2) (1996)
'Muhammad, Muslims and Islamophiles in the Commedia.' The Muslim World 82 (1992)
Works In Progress
Translations of selected passages from the Qur'an 
Editions and translations of the surviving works of Ibn al-Marzuban 
A scholarly edition of Azad Bilgrami's Shifa' al-'alil 
A volume on the Waqwaq trees and islands