Candace Skorupa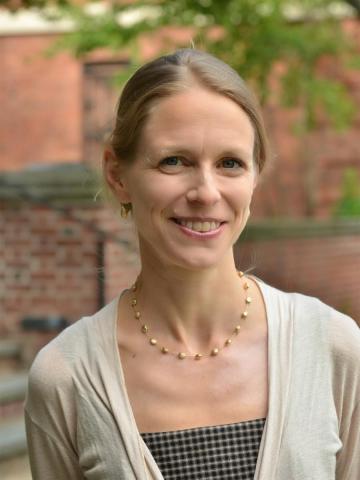 Senior Lector I in French and Lecturer in Comparative Literature
Address:
320 York Street, New Haven CT 06511 HQ 339
Candace Skorupa has been the Senior Essay Coordinator for the Literature Major since 2008.  She enjoys working with the Literature Major seniors through all of the stages of research and writing for the culminating project of their undergraduate career at Yale.   As an alumna of Yale's Comparative Literature department herself, she knows firsthand the importance of guidance, support, and encouragement for this major writing endeavor. 
When not advising Literature Major students, Madame Skorupa teaches all levels of French language and literature in the Department of French, from FREN 110 to FREN 150.   She also advises freshmen in Davenport College and selected sophomores from her French classes.
Skorupa received her Ph.D. (2000), M.Phil. (1996), and B.A. (1992) in Comparative Literature from Yale University.   Her dissertation, "Music and Letters: Correspondances of Notes and Narrative from Berlioz to Proust," was directed by Peter Brooks. 
She has taught French at Harvard University (1999-2002) and at Smith College (2002-2005), and she taught English at the Lycée Saint-Exupéry in Lyon, France, with the Fulbright program (1992-93).
Education History
B.A. Comparative Literature, Yale College, 1992
M.Phil, Comparative Literature, Yale University, 1995
Ph.D., Comparative Literature, Yale University, 2000
Research Interests
Nineteenth-century literature and music; Baudelaire; Berlioz; Proust; French Symbolist poetry
Publication Highlights
Christiane Métral, James Benenson, Candace Skorupa, "Echanges Synchrones Transatlantiques," Distances et savoirs 7:2 (2009): 253-272. 
Christiane Métral and James Benenson (with Candace Skorupa), "Cross-Cultural Connections: échanges synchrones et asynchrones transatlantiques," The French Review 85.2 (December 2011): 261-277.
"Challenges in Cross-Cultural Telecollaborative Exchanges," co-author James Benenson, Computer-Mediated Intercultural Foreign Language Instruction, eds. Julie Belz and Steven L. Thorne, 2005 Volume of the AAUSC (American Association of University Supervisors and Coordinators and Directors of Language Programs), State College, PA: Pennsylvania State University Press, 2005.
"Berlioz's Programme and Proust's Sonate: Parallel Quests to Bridge the Gaps in Musico-Literary Expression."  The Aesthetic Discourse of the Arts: Breaking the Barriers. Vol. LXI of Analecta Husserliana.  Ed. Anna-Teresa Tymieniecka. Dordrecht, Netherlands: Kluwer Academic Publishers, 2000.  251-271.
"Cross-Cultural Connections: Une salle de classe sans murs.  Webcams et visioconférences dans un projet d'échanges bilingues interculturels entre deux groupes d'élèves: ENST, Paris et Smith College, USA (janvier à mai 2004)," Proceedings from 32e Congrés UPLEGESS 2004, Union des Professeurs de Langues des Grandes Écoles, De l'amont vers l'aval.  La pédagogie des langues dans les Grandes Écoles: rupture et continuité.  2,3, et 4 juin 2004 à Télécom Paris; 46, rue Barrault, 75013 Paris.