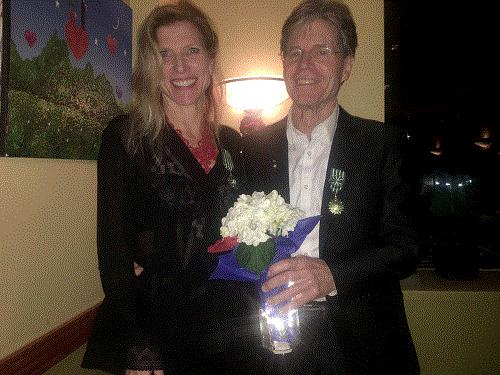 We are delighted to share news of the grand honor bestowed upon Dudley Andrew, R. Seldon Rose Professor of Comparative Literature and Professor of Film Studies and our first combined Comparative Literature and Film Studies doctoral student Anne Kern '07. The event was held Wednesday, December 5th.
Anne Kern is presently an Associate Professor of Film and Cinema Studies, and dean at Purchase College State University of New York. She has been named Chevalier dans l'Ordre des Arts et des Lettres. The French government distinction Chevalier dans l'Ordre des Arts et des Lettres (Knight of the Order of Arts and Letters) is bequeathed upon "persons who have distinguished themselves by their creativity in the field of art, culture and literature or for their contribution to the influence of arts in France and throughout the world."
Dudley Andrew stood as Kern's dissertation advisor and was elevated to rank of "Commandeur" as he was formerly "officier de l'ordre des arts et des lettres".
Congratulations!