Roberto González Echevarría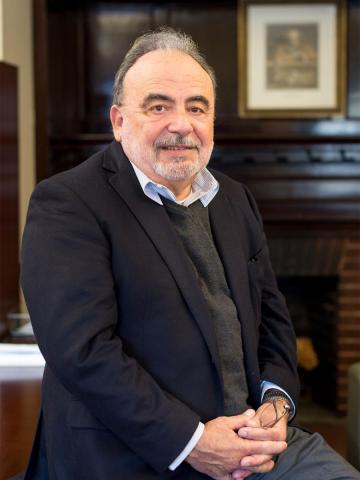 Sterling Professor of Spanish and Portuguese and Professor of Comparative Literature
Address:
82-90 Wall St, New Haven, CT 06511-6605
Biography
Born and raised in Cuba, naturalized American citizen. In 1999 was inducted into the American Academy of Arts and Sciences. Symposium in Honor of RGE, Universidad de Puerto Rico, Arecibo, November 21-23, 2002. Issue in Honor of RGE: Encuentro de la Cultura Cubana (Madrid),  no. 33 (2004). Presidential Honor: National Humanities Medal, 2010.  Taught at Yale (1970-71) Cornell (1971-77), where he one of first editors of Diacritics; since 1977 at Yale, where he was awarded the first endowed chair in Spanish (R.Selden Rose). In 1991 named Bass Professor of Hispanic and Comparative Literature, and in 1995 Sterling Professor. He chaired Spanish and Portuguese (16 years) and also chaired Latin American Studies. RGE has lectured throughout the US, Europe, and Latin America, and was first Hispanist at the School for Criticism and Theory.  In 2002 he delivered the DeVane Lectures, Yale's most prestigious series. In 2003 seminars at Columbia. Cervantes Lecture at MLA 2004. Since 2005 has spoken at Boston U., Wisconsin, Salamanca, Alcalá de Henares, Rome, Munich, Universidad Católica de Chile, Colegio de México, Heidelberg, Oxford, etc.
A speaker of Spanish, English, French and Italian, RGE is interested in Spanish, Latin American, French, and Italian literatures.  He is on the board of  The Yale Review. Currently or formerly on the boards of Hispanic Review, Hispania, Revista Iberoamericana, and other journals in the US and abroad. Awarded a Guggenheim Fellowship and a Senior NEH Fellowship. 
Education History
University of South Florida, 1964
M.A. Indiana University, 1966
MPh. Yale, 1968
Ph.D. Yale, 1970
Honorary Doctorate, Colgate, 1987
Honorary Doctorate, University of South Florida, 2000
Honorary Doctorate, Columbia, 2002
Research Interests
Golden Age Spanish Literature; Cervantes; Colonial and Modern Latin American literature; American literature; French and Italian literature; literary theory