Moira Weigel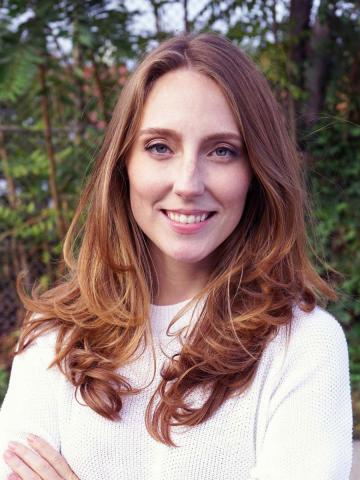 Biography
I am a PhD candidate in the combined program in Comparative Literature and Film and Media. I previously earned a BA at Harvard and an M. Phil at Cambridge University, where I was the Harvard Scholar in residence at Emmanuel College, and worked as an assistant editor at Harper's Magazine. My academic interests revolve around the intersections of film, literature, and philosophy during the long twentieth century.
My dissertation investigates the themes of animacy and nonhuman life in early film and media theory. I focus on the decades before the discipline of film studies began to establish itself in dedicated journals and academic institutions and before philosophers and computer scientists began to articulate the founding principles of what we now call "posthumanism." I examine on a wide range of discourses that have informed previous work in human and human animal studies, and attend to explorations of animal consciousness by modernist literary writers in several languages. However, I claim that media theory offers a particularly productive framework from which to consider "the question of the animal." Drawing on Miriam Hansen's concept of "vernacular modernism," I propose that the cinema became a key "sensory reflexive horizon" in which dreams and anxieties about the mass disappearance of "the life of nature" were negotiated.
I also study the history of feminism, gender and sexuality. I am particularly passionate about the work of socialist feminists, including Sylvia Federici, Angela Davis and bell hooks. My first book, a "secret history" of dating, examines the overlapping histories of courtship and evolving forms of gendered "emotional" or "affective labor" from the 1890s until the present.
Finally, I have a longstanding interest in the history of translation. I have published several translations from German and Chinese into English. 
Dissertation
"The Life of Nature in an Age of Celluloid: Animal Media Theory 1889–1951"
Research Interests
Modernism and modernity; continental philosophy; film and media theory; feminism, gender, and sexuality; translation; world literature; world cinema; modern China and "sinographies"
Education History
B.A. English and American & German Languages and Literatures, Harvard, 2007 (summa cum laude)
M.Phil Modern and Medieval Languages, Cambridge, 2008
Publication Highlights
Book
Labor of Love: The Invention of Dating, Farrar Strauss & Giroux (2016)
Peer Reviewed Articles
"Provincializing the Road Movie: Realism, 'Epic,' and Mobility in Ritwik Ghatak's Ajantrik (1957)," in The Global Road Movie Ed. Tim Corigan and José Duarte. Bristol: Intellect Books (forthcoming 2017).
"Hamletkrisen: Kleist, Shakespeare, and Media Theory circa 1800" forthcoming in The Germanic Review (January 2017).
"'Brutish Empire': Joyce's Herd Animals, Animate Media, and the End of Man" under consideration
Entries on "Béla Balázs," "Rainer Werner Fassbinder," "Werner Herzog," "Alexander Kluge," "F. W. Murnau," and "Wim Wenders." Routledge Encyclopedia of Modernism 
"The Uncanny Gaze: the Drama of Early German Cinema." The Historical Journal of Film, Radio, and Television. Vol. 31, Issue 2, 2011. 
"Genealogies of the User: On Halpern's Beautiful Data." Theory and Event. Volume 19, Issue 3 (July 2016)
Selected Essays and Reviews
Was She a Feminist? The Complicated Legacy of Helen Gurley Brown," New York Times Book Review, 14 July 2016
"Flirting with Humanity," The New Republic, June 2016
"Sexual Freelancing in the Gig Economy" New York Times, 14 May 2016
"The Foul Reign of the Biological Clock," The Guardian, 10 May 2016
"Slow Wars," (on slowness, world cinema, and the film festival circuit) n+1 Issue 25 (spring 2016)
"Remember Chantal Akerman," New York Times/Women in the World, October 2015
"Kids," The Point Spring 2016 
"No Final Frame: On Asif Kapadia's Amy" Even Magazine Issue 2 Fall 2015
"Fitted," (on activity trackers and gendered immaterial labor) The New Inquiry July 2015
"Graphs and Legends" (on Raymond Williams' Keywords and "distant reading), The Nation June 2015
"Neon Wave," (on Tsai Ming-liang), n+1 May 2015
"A Passion for Mutation" (on David Cronenberg), Prospect Magazine October 2014
"Survival of the Sexiest: How Evolutionary Psychology Went Viral," (with Mal Ahern), The Nation, September 2014.
"Searching for Shanghai," The Point, Spring 2014
            *received Honorable Mention in Best American Essays 2015
 "Electric World: My short career on Chinese television," n+1, 10 March 2014
 "Devils in Red Dress: On Bad Chinese Women," The New Inquiry, September 2013
"Portrait of the Internet as a Young Girl" (on performance artist Ann Hirsch) Rhizome September 2013
"Notes for a Theory of Friendship." Essay in Man Child Young Girl (volume to accompany exhibition inspired by "Theory of the Man-Child" Editions Patrick Frey, 2013
"Heritage Girl Crush: Margarethe von Trotta's 'Hannah Arendt'," Los Angeles Review of Books, July 2013
"Further Materials toward a Theory of the Man-Child," (with Mal Ahern), The New Inquiry, July 2013
"Sadomodernism" (on the films of Michael Haneke and Lars von Trier), n+1, March 2013
"Cinema of Disillusionment" (on the history of 3D cinema), n+1, July 2012
"Reintroducing Rilke," Wall St. Journal, 10 October 2009
"Grand Illusion" (on Gerhard Richter's photoportraits), The Guardian Review, 24 April 2009
"I Hear America Singing" (on Elizabeth Alexander and inaugural poetry), The Guardian Review, 30 January 2009
"Slumming It" (on Slumdog Millionaire), Forbes, 19 January 2009
"The Knut and Tom Show: Now You See It…" n+1, 18 December 2008
Translations
(from Chinese)
Lu Xun, "Modern Film and the Bourgeoisie," "Film Lessons," and "Not Suitable for Children" in Encyclopedia of Chinese Film Theory (forthcoming from University of Amsterdam Press)
"324: Dispatches from Taipei," n+1, 27 March 2014
(from German)
"Introduction to the 1928 German Edition" (headnote), "Publisher's Forward" (unsigned) and "On Johnson's Book" by Frederick Delius, in Norton Critical Edition of James Weldon Johnson's Autobiography of an Ex-Colored Man, Ed. Jacqueline Goldsby (p.124–8)
Werner Herzog, "On the Absolute, the Sublime, and on Ecstatic Truth" (trans.), Arion, Winter 2010