Martin Hägglund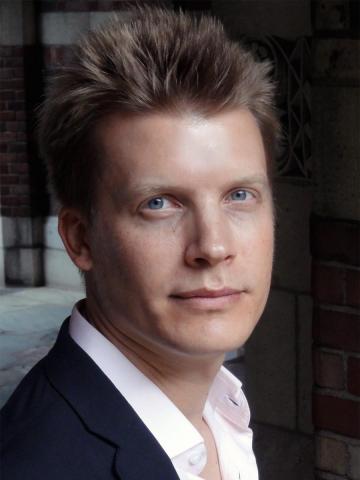 Professor of Comparative Literature and of Humanities
Address:
451 College St, New Haven, CT 06511-8906
Biography
Born and raised in Sweden, Martin Hägglund specializes in continental philosophy, literary theory, and modernist literature—ranging across French, German, English, and Scandinavian languages. At Yale he has recently taught a graduate seminar on Heidegger's Being and Time, an undergraduate seminar on death in philosophy and literature, and a new lecture course on the experience of time in the modern novel. Professor Hägglund is the author of three books, which engage with philosophers of time (from Kant to Derrida), theorists of desire (from Augustine to Lacan), and modern writers (Proust, Woolf, Nabokov). His work is the subject of a special issue of CR: The New Centennial Review, Living On: Of Martin Hägglund. He has received fellowships from the Woodrow Wilson Foundation, the Fulbright Commission, and the Harvard Society of Fellows. In 2014 he was awarded The Schück Prize by the Swedish Academy.
Education
B.A. Stockholm University, 2001.
M.A. SUNY Buffalo, 2005.
Ph.D. Cornell University, 2011.
Research Interests
Modernism; Continental Philosophy; Poetry & Poetics; Literary Theory; Psychoanalysis; 19th and 20th century Anglophone, French, German, and Scandinavian Literatures.
Publication Highlights
Dying for Time: Proust, Woolf, Nabokov. Harvard University Press, 2012. [Amazon]
Radical Atheism: Derrida and the Time of Life. Stanford Univeristy Press, 2008. [Amazon]
"Knausgaard's Secular Confession," b2o August 2017, also forthcoming in boundary 2. http://www.boundary2.org/2017/08/martin-hagglund-knausgaards-secular-confession-1a/
"Beauty That Must Die: A Response to Michael Clune." CR: The New Centennial Review, 15.3 (Winter 2015): 101-107. [PDF]
"On Chronolibido: A Response to Rabaté and Johnston," Derrida Today, 6.2 (2013): 182-196. [PDF]
"The Necessity of Discrimination: Disjoining Derrida and Levinas," Diacritics 34.1 (Spring 2004): 40–71. [PDF]
Work in Progress
This Life: Secular Faith and Spiritual Freedom (under contract with Penguin Random House: Pantheon Books).
Research Interests:
Critical Theory and Philosophy
English and Anglophone Literature
Fiction
German
Literary Theory
Modernism
Poetry
Romance Languages
Working Languages:
Danish
French
German
Norwegian
Swedish